When I heard this on the radio during my morning commute, I didn't think much of it but now that I am being repeatedly exposed to Mr. John McAfee and his supposed connection to a murder, I find that it is worth mentioning. Founder of the original security software, John McAfee has built a name for himself over the years but now it turns out it is being tarnished.
After his neighbor, an American expatriate, was killed by a gunshot to the head, Mr. McAfee was no where to be found and Belize officials are currently seeking his whereabouts. Apparently he told Wired magazine Monday that he knew nothing about the shooting and that when police came to search his property on Sunday he hid under sand with a cardboard box over his head so he could breathe. He told the magazine he is still hiding because he believes the police will kill him if they take him into custody.
This isn't the first time the police have paid him a visit either. In April, acting on a tip that there was an illegal drug lab on Mr. McAfee's property, police raided his home and found 10 firearms, including several pump-action pistols, nearly 300 shotgun cartridges, chemistry equipment and $20,000 in cash.
Maybe John McAfee is wishing he had stayed in the Silicon Valley where life is far less adventurous than it is Belize. Will we soon know John McAfee as McAplea? This just goes to show us that brilliant minds are not always equipped with common sense, so make sure your assets and business are adequately insured.
http://www.wired.com/threatlevel/2012/11/john-mcafee-audio-interview/
http://www.usatoday.com/story/news/nation/2012/11/13/john-mcafee-wire-belize-shooting-death/1702133/
http://www.wired.com/threatlevel/2012/11/threatlevel_1112_mcafee/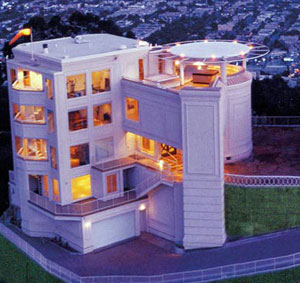 Ever wondered if there was such a thing as a disaster proof home? Well there is and this smartly designed home is built in Los Angeles, Ca to withstand anything and everything. From earthquakes to fires to terrorist attacks and elegant intruders, this five story house has everything you would ever need in a safe haven. The ultimate security device is built within the home and can be controlled by an iPad located in a few main areas. The video surveillance not only keeps you posted on who is in the house but runs facial recognition to open secured doors to certain areas. All of the doors have "bank style vault" locks and are almost impenetrable.
In case a burglar threatens to light the house on fire, the fire will automatically be put out with a neutralizing spray omitted from the ceiling and you can also warn the burglar via intercom system to leave before authorities arrive. In case of massive destruction and infrastructure is down, there is a helicopter port on the roof of the house to help evacuate everyone in the home. Not to mention the bomb shelter located in the basement has a six month supply of food and water to sustain a family of four. The windows have metal panels that come down into a lockdown mode if there is any destructive activity going on outside, and it is literally a safety sanctuary.
However, can a home really be completely safe?
http://live.wsj.com/video/building-the-ultimate-disaster-proof-house/E9524DCF-DB6F-48CE-823C-C49E9D14CAE8.html?mod=wsj_hpp_tboright#!E9524DCF-DB6F-48CE-823C-C49E9D14CAE8
Tomorrow is the big day… Election Day that is! It's nice to get back into election talk after last week's events. With the Giants winning the World Series and Hurricane Sandy surmounting our friends on the East Coast, the election was almost forgotten about. I was on the Wall Street Journal today and the first thing I read was, "OBAMA AND ROMNEY ARE DEADLOCKED." Now, I knew this was going to be a close race, but I didn't think it was going to be THIS close—Obama and Romney are literally neck to neck. Romney is a shy tenth of a point ahead of Obama! This race could be anyone's at this point, and that is why everyone is anticipating which way states will swing tomorrow. Will it be left or will it be right?
Again, if you jump on the WSJ's website and check out their interactive map for the election, you will find data regarding percentages of how many republicans and democrats there are and who won the Electoral College vote in the past elections. If you have a minute, it is definitely worth checking out. These two men are criss-crossing all over the states to get their last words in and to hopefully swing states like Ohio, Pennsylvania, and Florida over to their side. Paul Ryan who was just in Reno, Nevada was campaigning to get the state to swing red—Nevada as a whole often swings red but Las Vegas, which is the largest city, is a solid blue. Meanwhile in Pittsburgh, Bill Clinton is trying to get Pennsylvania to swing blue and Obama and Bruce Springsteen are in Madison, Wisconsin rallying those last minutes.  I guess only time will tell who is going to take 2012 and I for one will be anxiously anticipating those last minutes.
http://blogs.wsj.com/washwire/
http://projects.wsj.com/campaign2012/maps/?mod=wsj_elections_2012_nav#r=pres&v=states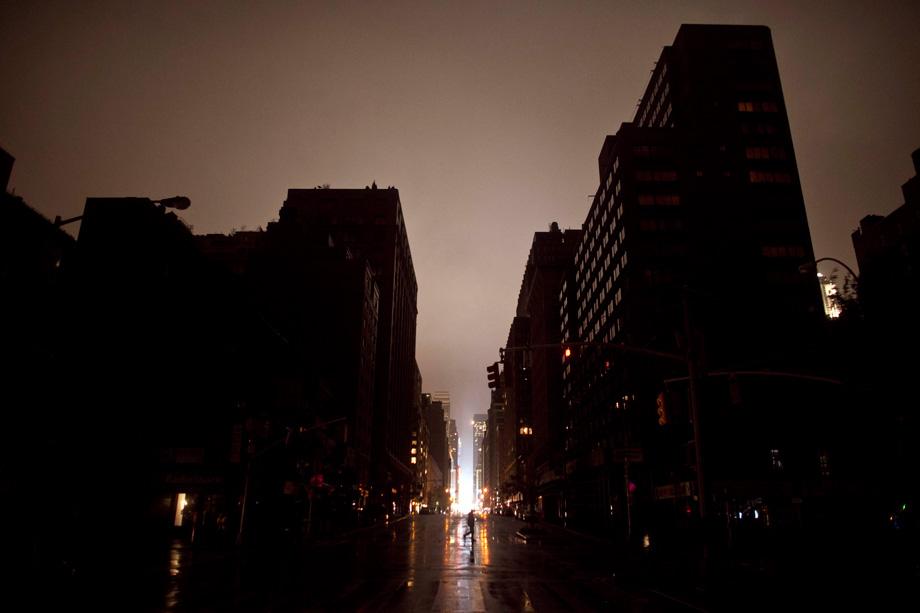 It has been three days since hurricane Sandy and you would think New York would be recovering quickly being the power city that it is, but in fact it is still struggling. With half of the city being out of power and little to if any cell phone reception, I wonder how people are surviving. My heart goes out to everyone on the east coast and those suffering. At&t, Sprint, T Mobile, and Verizon have been working with New York City to get cell phone towers up and running. So far cell phone holders are out of luck unless they have Verizon, and even then signals are very weak.
This quote was taken from an article in the Wall Street Journal:
"Yang Yeng, a shopkeeper selling batteries, candles, and flashlights on the street in front of his still darkened shop in the East Village, said his T-Mobile phone was useless in the area. The situation, he said, reminded him of the occasional cell phone-service outages where he used to live, on the outskirts of a small city in southern China."
I didn't know Manhattan could ever be compared to a rural city in southern China but it looks like hurricane Sandy's aftermath has made it comparable. Carriers are doing everything they can to get service going again and it is only a matter of time. However, they could be doing more regarding updates and keeping everyone posted about the situation. At&t will bring trucks that will offer charging stations and wireless connections in areas without coverage or power—this will come in handy for several people. The lack of cellular service is proof that even the biggest cities go through recovery, and although there is only so much we can do, it is important to prepare at home.
Here on the west coast, we may not experience hurricanes but earthquakes come trembling every so often and it is imperative to be prepared. Having an emergency earthquake kit with water, flashlights, canned food, a first aid kit and other essential supplies will become very useful if the time comes when we need it (I get a chill up my spine just thinking about it). Not to mention earthquake insurance is a MUST if you live in California. Taking preventative measures can only prepare us so much but it is better to be prepared than sorry!
http://online.wsj.com/article/SB10001424052970203707604578093220126444306.html?mod=WSJ_hpp_MIDDLENexttoWhatsNewsThird
Also known as "uMitB," has been noted to be the most destructive of cyber malware in existence. Cyber thieves are extremely smart and constantly creating malicious tactics to steal our information. It seems as if this time they have hit the mother lode and are wreaking mayhem. This stealthy villain creeps around a user's computer to capture financially sensitive data—i.e. credit card numbers and social security numbers.
The maleficent masterpiece of cyber criminals examines all of the information inputted by a user on web pages—targeted more so on banking and shopping sites. The "uMitB" then sends data back to the cyber criminal, who then sorts through a plethora of information choosing only what is most valuable to him or her.
After writing several blogs about hackers and their successful attempts at inconspicuously stealing our information, I have to admit it is self-alarming. I honestly don't know whether to risk it and continue with online bill pay or go old fashioned. Frankly, I'll take that risk—I know I am covered if anything where to occur and chances are my bank will notify me if they suspect anything. However, for big businesses, you should run anti-virus or anti-malware software occasionally and it never hurts to get cyber liability coverage.
http://www.insuretrust.com/powerful-new-malware-can-steal-money-discovered
When a company's web page is experiencing technical difficulties, nothing good comes from it. Amazon web services were down last week on the East Coast and brought a few more companies down with it. The outage had impacted Reddit, Airbnb, Heroku, FastCompany, Flipboard and a few other companies also. Amazon didn't say what happened, but a spokeswoman said the problem wasn't due to a hacker. However, an anonymous member of a hacker group tweeted that he was responsible for the outage, but those claims had been refuted by Amazon.
This whole event was practically a day-long event that caused chaos and havoc for many of these web services. Whether it was a hacker or just a "glitch" in the system, it sounds like Amazon was ill prepared for what happened. This is surprising because back in June, there was a similar event that took down Pintrest, Instagram, Netflix and other popular sites. You would think that Amazon would be slightly more educated on what to do during a situation they had previously experienced. Even though there were in constant communication with their customers through updates, it doesn't really give them a valid excuse for having the outage for so long.
http://news.cnet.com/8301-1023_3-57537499-93/amazon-cloud-outage-impacts-reddit-airbnb-flipboard/
So the Giants did it and they are off to the World Series! For a while I didn't think they were going to make it, but as luck would have it—or maybe just good talent—they made quite the impressive turnaround.
All I have to say is, "WOW, Marco Scutaro." This guy is really living up to his nickname, "Blockbuster," and having batted .500 with two walks, scored six runs and drove in four it really is no wonder that this guy was named NLCS MVP. Not to mention his 14 hits will leave an imprint in the hearts of many Giants' fans and his title of NLCS MVP has earned him a $75,000 bonus!
Now it all comes down to Wednesday when the SF Giants will play the Detroit Tigers at AT&T Park. I'm keeping my fingers crossed that we will make it all the way through and bring home that World Series Championship. When you think about it, we are pretty lucky to have competed twice in the past three years.
http://abcnews.go.com/Sports/wireStory/giants-scutaro-takes-long-journey-nlcs-mvp-17542038
With the holidays around the corner, I am sure many of us have travel plans, but do we all have travel insurance? Probably, not. Let me tell you folks, it is probably not a bad idea to invest in a little coverage. Whether you are headed to Aspen, Colorado for a fun little ski trip or hitting up New Zealand for some surf adventure, you should take some time out of your busy schedule and look into a travel insurance policy.
You may think because you are staying in our lovely country that you don't need it, but you may be very, very wrong. The world and Mother Nature have a cruel sense of humor and are very unpredictable. Let's be prepared rather than sorry. Any given minute or day, God forbid there is a fire, earthquake, storm or any other form of a travesty, and you have to cancel your travel plans. I know it's terrible to think about, but it has happened to too many of us, including me.
It was the summer of '06 and my sister and I were psyched about our summer getaway to Puerto Vallarta. We could picture it clearly, basking in the warm sun, heading for a swim in that tropical water, and not to mention the zip-line adventures in the jungle! All of that fun was put aside when Grams unfortunately got ill two weeks before take-off. Don't get me wrong, I love my grandmother with all of my heart, but it sure did put a delightful dent in our pockets. Right about that time we were wishing we had bought a small policy.
Ever since that small mishap, I have always invested in a small policy because let me tell ya, paying a couple hundred bucks is better than losing $8K. There are several policies out there that can provide you with cancellation protection, emergency medical/dental, travel accident coverage, even missed connection coverage. You can literally have a personalized policy tailored to fit your specific needs.
So guys and gals, before you hop in that plane, car, boat, or whatever it may be, do a little research and find a policy that fits your needs.
I personally do believe it will be worth your while.
http://www.travelguard.com/whybuy/index.asp?intcmp=clc-001-Nav-3-WhyBuy
http://www.allianztravelinsurance.com/aa/ProductCompare.aspx
photo credit: mr_double_f
Here are three crazy stories:
• A driver claimed they were leaving for work one morning and drove into a school bus parked at the end of their drive. A claim was filed against the bus driver, since the bus was five minutes earlier than they had expected and therefore obviously at fault. (as told by English comedian Jasper Carrott)
• A woman meeting her husband, a Navy crewman who was coming into port that day, parked at the end of the slip where the submarine was due in to berth. There was an inexperienced ensign at the helm who overshot his landing and hit the end of the slip, breaking a section away and sending the car plunging into the water. Needless to say, those damages were on Uncle Sam! (as told at www.businessballs.com)
• A driver parked by the side of the road was relocated to Oz when a home fell off the back of the truck that was relocating it. Eventually the insurance company paid the claim, but only after confirming with the moving company that the car had, in fact, been totaled by a house (as told by English Comedian Jasper Carrott)
Here at Costello and Son, we offer the following options for your Car Insurance:
Bodily Injury
Medical or Personal Injury Protection
Property Damage
Collision
Comprehensive
Uninsured Motorist Coverage
Deciding exactly what type of coverage you need may be confusing, that's why our insurance specialists are dedicated to helping you find the best auto insurance in California, as well as make you, and your unique needs, our top priority!
Please visit costelloandsons.com for more information, or call us at 415-257-2100!
photo credit: Phillip Pessar 
Umbrella Insurance is basically added liability protection that goes beyond the limits of homeowners, auto, and watercraft insurance policies. By purchasing an umbrella insurance policy one can add millions in liability protection.
Exemplary Situation:
Suppose that you are driving home, not paying attention to the road, and hit someone walking. It was totally an accident, but you were not paying attention, and now this person has serious injuries. If the person sues, the standard liability on your auto policy will cover many of the costs involved. If the costs go beyond what your standard liability covers, they can go after your assets. Umbrella insurance adds a layer of protection between the costs accrued by the accident and your personal assets.
How Do I Get Umbrella Liability?
Specific and comprehensive coverage can be underwritten along with your Homeowners' policy. We can secure custom policy language and specialized limits to insure your assets are well protected.
As part of our Homeowners application process, we will request detailed information to provide appropriate coverage limits. You can contact Moira McNeill at 415.257.2125 or email her at mmcneill@costelloandsons.com to find out more.